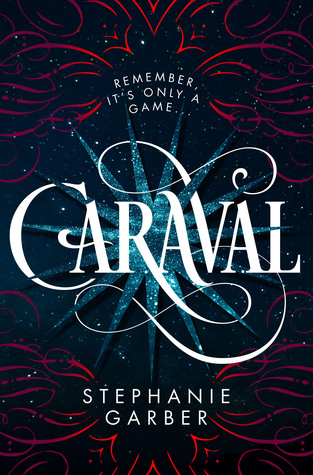 Title:
Caraval (Caraval #1)
Author: Stephanie Garber
Publisher: Flatiron Books
Publication date: January 31, 2017
Pages: 407
Genre: Fantasy, Young Adult, Romance
Add to
Goodreads
Whatever you've heard about Caraval, it doesn't compare to the reality. It's more than just a game or a performance. It's the closest you'll ever find to magic in this world . . .

Scarlett has never left the tiny island where she and her beloved sister, Tella, live with their powerful, and cruel, father. Now Scarlett's father has arranged a marriage for her, and Scarlett thinks her dreams of seeing Caraval, the far-away, once-a-year performance where the audience participates in the show, are over.

But this year, Scarlett's long-dreamt of invitation finally arrives. With the help of a mysterious sailor, Tella whisks Scarlett away to the show. Only, as soon as they arrive, Tella is kidnapped by Caraval's mastermind organizer, Legend. It turns out that this season's Caraval revolves around Tella, and whoever finds her first is the winner.

Scarlett has been told that everything that happens during Caraval is only an elaborate performance. But she nevertheless becomes enmeshed in a game of love, heartbreak, and magic with the other players in the game. And whether Caraval is real or not, she must find Tella before the five nights of the game are over, a dangerous domino effect of consequences is set off, and her sister disappears forever.
Remember, it's only a game.
That is what you have to remember before you open this book. Before you start reading, remember that it is indeed only a game. None of it is real. Or is it? I still don't know if what I read was real, and that is what makes this book so great.
Caraval was included in a monthly subscription box called
FairyLoot
, and I'm so happy that they choose this book, because I don't think I would have bought it myself due to all the hype around it. For me, hyped books have a tendency to get so hyped, so when you finally decide to pick it up you just can't seem to enjoy it as much as you'd like. Which is why I'm glad that Caraval proved me wrong.
This novel is the definition of an innocent game gone wrong. You are told, several times that it's just a game. And that's what you forget. You forget that it's just a game. You get sucked into a world like no other. A world where you loose the sight on what's real and not. Not only does the world suck you in, but the storyline is so gripping you just can't get enough of it. It's hard to let go once it has you trapped.
And I think that is what's so great about this novel. Not only does the main character, Scarlett loose track on reality, but you as a reader do too. There were several times I had to put the book down, just to think about what had happened.
That takes me over to some of the characters, first starting with Scarlett, the main character in this story. At first, I did not like her. How positive she was for an arranged marriage, and how everything would be a-okay after she married this man she has never met. But throughout the book, I felt like Scarlett opened her eyes more. She saw the reality of certain things, and she grew on me.
Tella is one of the characters I wish I knew more about, as she is indeed and interesting person. If the rumors of a second book coming out, are true, I really hope we get to know more about her because I have the feeling that she is a character that is easily likeable.
I can't forget about Julian, can I? I liked him from the first moment he was introduced. He has this typical mysterious side that is intriguing and makes you hunger for information. He is definitely one of the characters I questioned the most. One time I thought one thing about him, and then that was proven wrong and I thought about another thing. He became more and more interesting for each page that I flipped over.
Can we also take a moment to appreciate Stephanie Garber's beautiful writing style? The fact that this is her
debut novel
(yes you read right) says a lot about how talented she really is. This is an author who has put a lot of work in her book. But hey, for all we know she could have won Caraval herself and gotten a wish from Legend himself.
Caraval is an easy book to love, and love it I did. Everything about it was magnificent, and not to mention all those secret covers. I plan on getting my hand on every single one of them. Now I'm just going to impatiently wait for book two to come out, because with an ending like that, who wouldn't be excited?