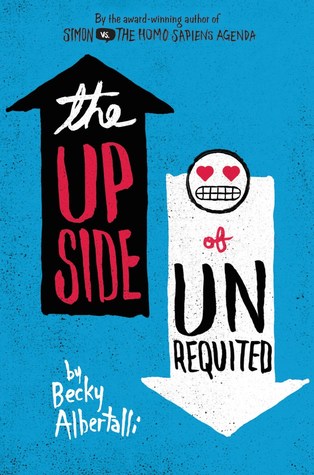 Title:
The Upside of Unrequited
Author: Becky Albertalli
Publisher: Blazer + Bray
Publication date: April 11, 2017
Pages: 352
Genre: Young Adult, Contemporary, Romance
Add to
Goodreads
Seventeen-year-old Molly Peskin-Suso knows all about unrequited love. No matter how many times her twin sister, Cassie, tells her to woman up, Molly can't stomach the idea of rejection. So she's careful. Fat girls always have to be careful.

Then a cute new girl enters Cassie's orbit, and for the first time ever, Molly's cynical twin is a lovesick mess. Meanwhile, Molly's totally not dying of loneliness—except for the part where she is. Luckily, Cassie's new girlfriend comes with a cute hipster-boy sidekick. If Molly can win him over, she'll get her first kiss and she'll get her twin back.

There's only one problem: Molly's coworker, Reid. He's a chubby Tolkien superfan with a season pass to the Ren Faire, and there's absolutely no way Molly could fall for him.

Right?
This ARC was given to me by the publisher, through Netgalley in exchange for an honest review.
This, ladies and gentlemen. This is how you write a diverse book with realistic characters.
The Upside of Unrequited
was one of my most anticipated reads in 2017, and with good reason. Becky Albertalli is an amazing author, and after reading her book Simon vs. The Homo Sapiens Agenda I was already looking forward to reading more of her works. It pleases me to say that she did not let me down with her latest work.
We are sucked into the world of Molly Peskin-Suso, a fat, Jewish seventeen year-old who has had twenty-seven crushes and is absolutely obsessed with Pinterest. She lives at home, with her moms, twin sister Cassie and little brother Xavier Xav. A beautifully portrayed family, represented in a realistic way.
We get to watch love that blooms, crushes that turn into something more, realistic heartbreaks, stories that are both sad and beautiful, a sibling relationship that is put to a test, realistic questions that every young person is asking themselves. This is a contemporary that has grown into something beautiful.
The characters in this book was made to be loved. There were some characters I wasn't quite fond of at some parts throughout the book, but it still wasn't shocking that I grew to love them later on.
When it comes to the story, there is nothing to pick on. I loved the atmosphere. There were several moments that fit perfectly and I thoroughly enjoyed them. Like the parties, Molly's work, the wedding, the arguments. They were presented so naturally, so no beef there. And the dynamics between them all, I adored it.
I think the reason why I loved this book so much, is because
I am Molly
in almost every single way. I know how it's like to be the fat one, the over sensitive one (there is not a day that I don't cry over something), the one that crushes on people over nothing (I still do and I'm turning 20 this year), the one with several insecurities. The list goes on. I connected with Molly in ways more than one.
One thing last thing I really enjoyed, was that we got to meet Simon for just a brief second! It was such a great moment and I'm hoping we get to see more of him in the future *cough* talking to you Becky *cough*.
If you are looking for a book with good dynamics between the characters, a realistic setting and how it is to be a youth today? Well, then I highly recommend you read this book ASAP!