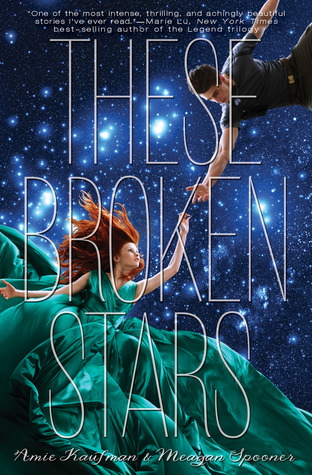 Title:
These Broken Stars (Starbound #1)
Author: Amie Kaufman &
Meagan Spooner
Publisher:
Disney Hyperion
Publication date: December 10, 2013
Pages: 374
Genre: Young Adult,
Science Fiction,
Romance
Add to
Goodreads
Luxury spaceliner Icarus suddenly plummets from hyperspace into the nearest planet. Lilac LaRoux and Tarver Merendsen survive – alone. Lilac is the daughter of the richest man in the universe. Tarver comes from nothing, a cynical war hero. Both journey across the eerie deserted terrain for help. Everything changes when they uncover the truth.

The Starbound Trilogy: Three worlds. Three love stories. One enemy.
After reading Illuminae by Jay Kristoff and Amie Kaufman, I knew I had to read some of their other works. So when
eStories
contacted me, asking if I was willing to review one of their audiobooks in exchange for an honest review, I knew exactly which book I wanted to review!
This book blew me away, into the wonders of the galaxies. We were given strong characters, with unique personalities. A world building, literally out of this world. A tense story, making you itch for more. The more secrets you uncover, the more you want to know. I would have finished this book in mere hours if I had read it myself, but I am really glad I listened to it on Audiobook because it gave the whole story a more vivid feeling.
These Broken Stars feels like a retelling of Titanic at first, only that it's set in space. And "Rose" gives "Jack" some room to lay on that god forsaken, floating piece of wood that could clearly fit two people. But the thing is: it's nothing like Titanic. It's something better, more mysterious, more exciting. Amie Kaufman and Meagan Spooner tells a whole different story, a story that abandons the "Titanic" similarity mere chapters after the disaster strikes. We get thrown into a story that suddenly is about life or death. A story where your survival instincts immediately kicks in. You are left with questions throughout the book, questions like: "ill they make it? What made the Icarus crash? Is anyone alive? Am I, too, turning crazy?
The story is told through the eyes of the two star-crossed lovers, Lilac LaRoux - the daughter of the richest man in the universe, everyone's sweetheart. Tarver Merendsen - the youngest war hero in the universe, a nobody. We get thrown on board the Icarus, where no time is wasted to introduce the two characters to each other. Already then, I knew we were introduced to two characters with completely different personalities. And it was those personalities that kept the story entertaining. To see how much their personalities grew throughout the book was a wonderful experience. To go from hating a character, to loving it as you progress throughout the book says a lot about how much work the author has put into their characters.
Even though the whole book was an intense load of stuff happening, the last 20-30% or so took my breath away. I was left with loads of unanswered questions, questions I'm itching to get the answer to. There were moments where I gasped, there were even times I held my breath without knowing it myself.
When it comes to the audiobook itself, I loved it. The narrators voices fit perfectly to the characters. The way they spoke with such devotion and clearness was honestly a delight. I feel like it was a perfect match, and I couldn't be more pleased.
All I have to say is that if you haven't read this book, for some lame ass reason, then I don't know what you are waiting for!
Once again, thank you to eStories.com for letting me choose an audiobook from their library that consists of 80,000 bestselling titles and new releases. If you want to check it out, you can get your first
audiobook for free
now! You can also get a
free audiobook trial
or
free audiobooks for download
by clicking either of the links. Pick the one that you think suits your situation best.