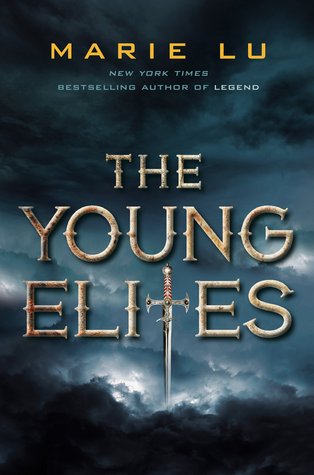 Title:
The Young Elites (The Young Elites #1)
Author: Marie Lu
Publisher: G.P. Putnam's Sons Books for Young Readers
Publication date: October 7, 2014
Pages: 355
Genre: Fantasy, Young Adult, Dystopia
Add to
Goodreads
I am tired of being used, hurt, and cast aside.

Adelina Amouteru is a survivor of the blood fever. A decade ago, the deadly illness swept through her nation. Most of the infected perished, while many of the children who survived were left with strange markings. Adelina's black hair turned silver, her lashes went pale, and now she has only a jagged scar where her left eye once was. Her cruel father believes she is a malfetto, an abomination, ruining their family's good name and standing in the way of their fortune. But some of the fever's survivors are rumored to possess more than just scars—they are believed to have mysterious and powerful gifts, and though their identities remain secret, they have come to be called the Young Elites.

Teren Santoro works for the king. As Leader of the Inquisition Axis, it is his job to seek out the Young Elites, to destroy them before they destroy the nation. He believes the Young Elites to be dangerous and vengeful, but it's Teren who may possess the darkest secret of all.

Enzo Valenciano is a member of the Dagger Society. This secret sect of Young Elites seeks out others like them before the Inquisition Axis can. But when the Daggers find Adelina, they discover someone with powers like they've never seen.

Adelina wants to believe Enzo is on her side, and that Teren is the true enemy. But the lives of these three will collide in unexpected ways, as each fights a very different and personal battle. But of one thing they are all certain: Adelina has abilities that shouldn't belong in this world. A vengeful blackness in her heart. And a desire to destroy all who dare to cross her.

It is my turn to use. My turn to hurt.
I've seen Marie Lu a lot on my Instagram feed, but it wasn't until I was introduced to a snippet of her latest book, The Midnight Star (The Young Elites #3), that she really caught my attention. The scene I had read, was so beautifully written so I just knew I had to get my hands on the series somehow. And after getting a Kindle for Christmas, the decision was made.
After reading the first chapter for free on my Kindle, I was hooked. I knew I had to continue reading. I don't regret one bit, pressing down on the purchase button. I was so invested in both the story and the world surrounding it, I just couldn't put it down once I picked it up. The book was filled with nerve wrecking moments, shocking plot twists and heart warming times.
As usual, I didn't read the whole synopsis before I read the book. I don't even think I read it at all. It's not the first time I jump blindly into a new world. Not that I regret it. You who have read the synopsis, can tell that this book isn't told just from the main character's point of view, but also told from a few side character's POV. As I am not a fan of multiple POV's (more than two), Marie Lu actually made it work. Getting an insight to the bad guy's mind was definitely interesting.
One pleasant surprise, was the main character. Adelina is not your typical "angelic/good girl" character type. This is a girl who yearns for power. A girl that is not afraid to surrender to the darkness that is growing inside of her. All this, because she has been living under the same roof as her cruel father. A father that has only seen her as worthless. That all changes, once the dark power within her is released. Apart from her devious powers, Adelina is an easy character to like. Her vulnerabilities are pure, just as her intentions. It's her flaws that makes her perfect.
If there is one thing I want to praise Marie for, it's the way she builds up her characters. There was this unique touch to them all, that I just really liked. She writes interesting characters, characters you want to know more about: whether you like them or not.
When it comes to the world building, I was blown away. I love it when writers puts some thought into their characters surroundings. To get a chance to see through the characters eyes, by just reading is something every author should focus on. It makes the whole reading experience worth it.
All in all, this was a magnificent book! Filled with action, suspense, romance and last but not least: magic! A new type of magic that I am itching to know more about, how it works, why only some get it and so on. I'm looking forward to follow Adelina's journey and who else she encounters on her way. After an ending that made me scream in frustration, all I can think about is what happens next. The Young Elites lived up to its reputation, and I'm begging that the rest of the series does the same!