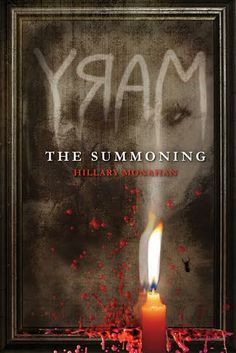 Title:
Mary: The Summoning (Bloody Mary #1)
Author: Hillary Monahan
Publisher: Disney-Hyperion
Publication date: September 2, 2014
Pages: 245
Genre: Horror, Young Adult, Fantasy
Add to
Goodreads
There is a right way and a wrong way to summon her.

Jess had done the research. Success requires precision: a dark room, a mirror, a candle, salt, and four teenage girls. Each of them--Jess, Shauna, Kitty, and Anna--must link hands, follow the rules . . . and never let go.

A thrilling fear spins around the room the first time Jess calls her name: "Bloody Mary. Bloody Mary. BLOODY MARY." A ripple of terror follows when a shadowy silhouette emerges through the fog, a specter trapped behind the mirror.

Once is not enough, though--at least not for Jess. Mary is called again. And again. But when their summoning circle is broken, Bloody Mary slips through the glass with a taste for revenge on her lips. As the girls struggle to escape Mary's wrath, loyalties are questioned, friendships are torn apart, and lives are forever altered.

A haunting trail of clues leads Shauna on a desperate search to uncover the legacy of Mary Worth. What she finds will change everything, but will it be enough to stop Mary--and Jess--before it's too late?
We all have heard about the urban legend, Bloody Mary. I know some of us has even tried to summon her ourself. I know I have. And to this day, she still freaks me out. Reading this novel did not make me any less scared of her. To be honest, I don't think I'll be able to look in the mirror anytime soon.
"I hadn't locked it. They hadn't locked it. Mary had locked it."
The novel begins with a letter that Mary herself has written to her sister, Constance. The reason I find this letter important to the story, is because it sets off the right vibe. It gives us an insight to what's about to come, and we know it ain't pretty.
"There was no fluidity to the movements. It was one jolting, shambling step into the next, like a zombie movie monster."
When Jess discovers the proper way to summon Mary, she convinces her three friends Shauna, Kitty and Anna to join in on the "fun". As Jess prepares the necessities, the summoning begins. None except Jess believes Mary will show, but once she does, things get real. The first summoning was a success, but it wasn't enough. Not for Jess at least. She convince her friends to do it one more time, just so they can see her face. And that's when all hell breaks loose.
"As far as I know, Mary always goes back to the mirror."
The main character, Shauna is who I'd like to call the "mother" of the group. She is a rational person, and quite easy going. The way she was portrayed in the book made the dislikes I had about her, make her seem like a real life person. But even though she was the most rational one in the group, she was still influenced by Jess and her "reasonable" arguments.
"She's here."

Jess, ugh... Where do I even begin? I despised her. Everything about her screamed DANGER! DANGER! DANGER! It was like she couldn't separate right from wrong. Who gets that ecstatic after successfully summoning a demon from the depts of hell? If I would her, I wouldn't even think twice about getting the hell out of there. She reminds me of the girl in a horror movie who hears a sound and is stupid enough to go look for it.

"One, line the mirror. Two, light the candle. Three, and most importantly... Hold hands."

If you are looking for a spine-tingling read, then this is the book you want to read. You are thrown right into the story, no time build ups or proper character introductions. A page turner like never seen before. It is packed with action, creepy scenes, and plot twists that makes you question your own sanity. This book will leave you frustrated, angry and scared of your own reflection. All the credits go out to Hillary for writing such thrilling scenes.

"The fog thinned, and for the first time, I saw her. All of her."

The reason it was not given a full score, was because there was questions left unanswered. My curiosity wasn't satisfied enough. I need to know more. More about Mary, the mirror, how she ended up there, etc. I am fully aware there is a second book (already ordered) and I hope that some of my curiosity will be fed after that.